Gulf Coast Spa engineers pay careful attention to every detail, utilizing high quality raw materials. We have perfected the appliance-grade spa, with hot tubs in all sizes and price ranges to suit your needs.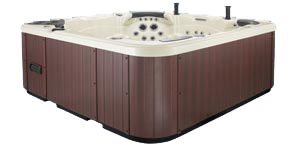 Gulf Coast utilizes manifold plumbing systems, high performance ERP 7 HP pumps and a wide range of jets to ensure the ultimate hydrotherapeutic experience. Our spas are hassle-free, with self-diagnostic, one-touch controls. Proprietary technology includes the AquaClara Natural Water Management System. - offering clean water and ThermaZone barrier insulation process - protecting your spa in cold climates and minimizing your energy costs.
Gulf Coast spas are also designed with your comfort and serenity in mind, incorporating soft seamless headrests, drink trays, aromatherapy systems, waterfalls, ergonomic seats and optional stereo/CD players. Our spas are ETL listed, meeting federal standards for safety and environmentally sound manufacturing processes.
GCS Wins Awards For Luxury Series Brochure and Online Technical Support Guide
03/21/07
Read More...